Last updated on December 9, 2019
New year, new K-dramas! Following our best K-dramas series of last year, here are the Korean TV shows that will air in 2019 and where to watch them!
1 of 13
The show: The Best Chicken
Watch on: Viki
Premieres on: January 2
We've talked about the rise of original contents, and it looks like Viki is joining the party. In this Viki original romantic comedy, Park Choi Go (Park Sun Ho) quits his job on a whim and open up a chicken restaurant at what used to be a bathhouse. Seo Bo Ah (Kim So Hye), an aspiring webtoon writer who secludes herself in the bathhouse, can't accept that the building she inherited from her grandfather is turning into a chicken restaurant. To take her inheritance back, she becomes Park Choi Go's employee along with Andrew Kang (Joo Woo Jae), a once promising chef who is now homeless.Can Park Choi Go become the ultimate chicken master and achieve his dream?
2 of 13
The show: The Crowned Clown
Watch on: Viki
Premieres on: January 7
If you've seen Lee Joon Ki's famed historical film "Masquerade," you'll want to check this out. In this remake of the 2012 film, a king (Yeo Jin Goo) finds his doppelganger, a clown, and disguises him as himself to survive assassination attempts. The clown complicates the situation when he too falls in love with the queen (Lee Se Young).
3 of 13
The show: Kingdom Season 2
Watch on: Netflix
Premieres on: January 25
When the deceased king revives, the crown prince becomes the only hope against the plague that is turning the kingdom into a zombie land. This historical fantasy stars Bae Doo Na, Joo Ji Hoon and Ryu Seung Ryong, and is a work of screenwriter Kim Eun Hee of "Signal."
4 of 13
The show: Romance Is a Bonus Book
Watch on: Viki
Premieres on: January 26
We love it when K-dramas star a writer. Just as we loved watching "Chicago Typewriter" starring Im Soo Jung and Yoo Ah In, we already know we'd love watching this TV show about the world of publishing. In "Romance Is a Bonus Book," a talented copywriter (Lee Na Young) and a star writer (Lee Jong Suk) meet and fall in love. This show premieres after "Memories of Alhambra." Read more about this series here.
5 of 13
The show: Touch Your Heart
Watch on: Viki
Premieres on: February 6
In this "Miss Hammurabi" meets "Beauty Inside" K-drama, a top star (Yoo In Na) gets herself involved in a scandal, which quickly puts her career in a downward spiral. In her attempt to switch careers, she finds a job as a legal secretary. Her boss (Lee Dong Wook) may be competent, but he is the most boring man in Korea.
Actors Lee Dong Wook and Yoo In Na have fallen in love on screen before–in "Goblin."
6 of 13
The show: Haechi
Watch on: Kocowa
Premieres on: February 11
Jung Il Woo takes on the role of Prince Yeoning in his first drama after military service. The prince was neglected because his mother was a commoner. In this highly expected historical drama, the young prince roams around the country, and the friends he meets from different walks of life will become his strong support on his way to the throne.
7 of 13
The show: Dear Citizens, a.k.a. My Fellow Citizens
Watch on: Kocowa
Premieres on: March 2019
Can a conman ever go straight? This crime comedy drama stars popular singer-actor Choi Siwon as a conman who gets scammed by his girlfriend. He then meets and marries a woman who turns out to be a detective. He also gets blackmailed into running to become a member of the National Assembly.
8 of 13
The show: Vagabond
Watch on: Kocowa
Premieres on: May 2019
Lee Seung Gi plays a stuntman with dreams of becoming an action star. When his nephew dies in a mysterious plane crash, he decides to investigate and encounters Bae Suzy who plays an agent for the National Intelligence Service. If you're unable to watch on Kocowa, Viki picks up many of its library but adds their own subtitles, according to BTS Celebs.
9 of 13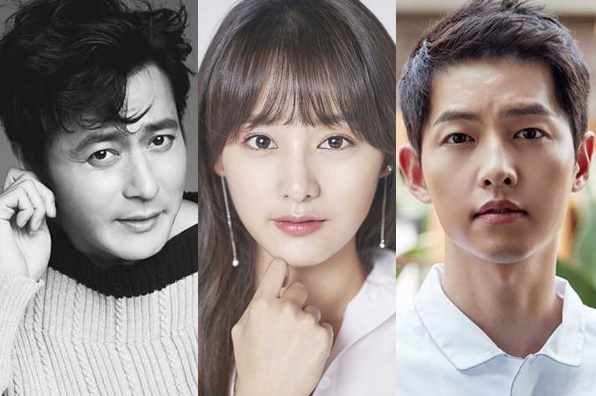 The show: Asadal Chronicles
Watch on: TBD
Premieres on: TBD
Eunsum (Song Joong Ki) of the blue planet, whose mother lost her life to save him, grows to become a threat to the Aseudal Empire. Tagon (Jang Dong Gun) is a war hero who contributes to the civilization of the empire. He gradually rises to top of the chain of command, and dreams of crowning himself an emperor. Lastly, Tanya (Kim Ji Won) of the Wahan tribe is the first female politician in the Aseudal Empire, who becomes the love interest of both Eunsum and Tagon.
The team behind this historical fantasy has brought to you "Six Flying Dragons," "Queen Seondeok," "Misaeng," "Signal" and "My Mister."
10 of 13
The show: Because It's My First Love
Watch on: Netflix
Premieres on: TBD, 2019
Ji Soo ("Strong Girl Bong-Soon", "Bad Guys 2") and his college friends are finding romance for the first time. The pre-produced drama series is a quick binge at only eight episodes.
11 of 13
The show: Camellia Blooms
Watch on: Kocowa
Premieres on: TBD, 2019
Gong Hyo Jin ("Jealousy Incarnate") plays the manager of a bar named Camellia. Like the flower, she may seem timid and introverted but actually has a quiet strength. The drama fuses romance, thriller and comedy in a compelling story.
12 of 13h
The show: Abyss
Watch on: TBD
Premieres on: TBD, 2019
After her successful "Strong Girl Bong-Soon" and "Oh My Ghostess" dramas, Park Bo Young returns as a prosecutor whose beautiful look is turned plain while an ugly man is changed to a gorgeous hunk, when they somehow fall into a mysterious soul abyss. She will investigate what happened and find true love during the process.
13 of 13
The show: Love Alarm
Watch on: Netflix
Premieres on: TBD
Love Alarm is an app that notifies users when someone interested in you is within a 10 meter radius to you. This new app is a sensation but, over time, people realize that they have begun to treat the app as affirmation for love. The story is based on comics author Chon Kye Young's namesake webtoon, according to Netflix.
Originally, Love Alarm was going to be Netflix's first original Korean drama. The premiere date is still to be determined, but we're betting that this will air sometime in 2019.
Which of the 2019 K-dramas are you dying to watch? Let us know in the comments below!
This article was co-written with Nancy Z. Follow her on Twitter and Facebook.